Come & share
— in the magic of the Macleay River Valley.
Retire to the perfect climate
Find your perfect country location in the tranquil village of Frederickton on the NSW Mid North Coast.
Combine a stunning location with the best climate and you have a perfect match for your country lifestyle. The mid north coast of NSW area is known for one of the best climates in Australia with mild winters and delightful summers and warm enough to swim in the sea for most of the year.
Country yet Coastal
The best of both worlds at Macleay Valley Village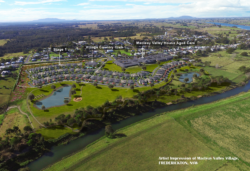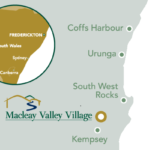 How do you find Frederickton?
It's as easy as a hop, skip and a jump.
A HOP from South West Rocks
30 minutes to South West Rocks, your closest beach.
10 minutes drive to Kempsey: your closest shopping centre and nearest hospital.
A SKIP
45 minutes drive to Port Macquarie, the region's largest centre.
1 hrs drive to Coffs Harbour.
and a JUMP
4.5hrs drive to Sydney
5hrs drive to the Gold Coast
7hrs drive to Canberra
View on map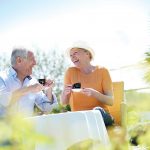 Discover Frederickton!
Or as the locals call it FREDDO
Overlooking the Macleay River Valley this charming rural village provides the best of both coastal and country living in the heart of the Mid North Coast, NSW. Surrounded by unspoilt national parks only 2 minutes from the Pacific Highway linking easy access to regional centers and the local beach at South West Rocks only 30 minutes away, there is something to suit your lifestyle.
This immediate area has a fantastic range of activities to keep you busy. These include golf, bowling & social clubs and volunteer organisations encouraging a wonderful sense of community.
Kempsey, only a 10 minute drive, it is your local shopping precinct and closest hospital. It plays host to beautiful heritage-listed buildings and is where the iconic Akubara Hat is made and home to the Slim Dusty Museum.
Discover the surrounding region
Blessed with natural beauty and a great climate, the Mid North Coast offers the perfect location to suit your lifestyle
Choose from breathtaking natural parks that surround Frederickton offering a wonderful Sunday drive or a delightful stroll through rare coastal rainforest.
Entertain your family and friends with the joys of wildlife-spotting and birdwatching along the banks of the Macleay River or do a spot of fishing.
If a coastal lifestyle is your preference, there are kilometres of pristine coastline to explore, uncrowded beaches to have a swim or great fishing spots to try your luck. Enjoy discovering local restaurants, cafes and wineries at your leisure and you'll never be short of entertainment with a range of art and cultural events throughout the region.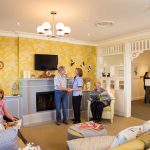 Macleay Valley Village is adjacent to our Premium Aged Care Home
The Village is conveniently located next door to Macleay Valley House Aged Care Facility which is owned and operated by the long established Thompson Health Care Group.